Dawson County Scholarships
The Hastings College Rick Wilson Memorial Scholarship for Dawson County, Nebraska, students recognizes students residing and attending high school in Dawson County who demonstrate academic achievement, leadership ability and community involvement.
Hastings College awards a limited number of scholarships starting at  $500 to first-year students meeting the qualifications, so we encourage you to apply early. Scholarships are renewable each year.
The Rick Wilson Scholarship may be combined with other academic merit and talent scholarships but cannot be combined to exceed full-tuition.
Qualifications
You must reside in and attend high school in Dawson County, Nebraska
Apply and complete all admissions requirements
Strong consideration will be given to academic achievement, leadership, ability and community involvement
Complete the Rick Wilson Scholarship application (early applications are encouraged due to the limited number of scholarships available)
Questions?
To learn more about the Rick Wilson Memorial Scholarship, contact Lisa Markle at lmarkle@hastings.edu or 402.461.7781.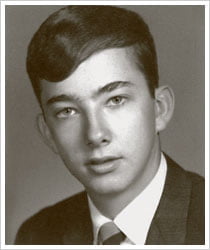 Hastings College is proud to award the Rick Wilson Memorial Scholarship in honor of Rick Wilson, a Hastings College student from Cozad, Nebraska, who died of leukemia during his freshman year in 1970. A 1969 graduate of Cozad High School, Rick Wilson was an outstanding scholar and member of the National Honor Society. One of two lettermen on the golf team, he also was active in music playing in the Pep Band, Symphonic Band and the All-State Band and singing in the Senior High Chorus. In his community, he was active in the Tri-County DeMolays, First United Methodist Youth Fellowship and 4-H. At Hastings College, Rick earned a perfect grade point average during the 1969 fall semester and was on the dean's list.
Rick's father, prominent Cozad, Nebraska, businessman D. Lloyd Wilson, established the endowed scholarship in his son's name. The late Mr. Wilson also provided funds to build the Wilson Mathematics and Computer Science Center, which also was dedicated in Rick's honor.