Hastings College + Create! Magazine
National Call for Entries, Exhibition & Publication
Jackson Dinsdale Art Center, Hastings College
Submission Deadline: Midnight on Friday, December 13th, 2019
Show Dates: January 23rd – February 22nd, 2020
Reception: Thursday, January 23rd, 5-7pm
The Jackson Dinsdale Art Center, in collaboration with Ekaterina Popova and Alicia Puig of Create! Magazine, welcomes submissions for a national, group exhibition. Artists of every career stage and every medium are encouraged to apply. Artists must live and work in the US.
This exhibition will be covered in a forthcoming print edition of Create! Magazine and on the Create! website, yielding increased visibility of exhibiting artists and their work.
Cost:
$20 for 4 entries.
Ekaterina Popova is a visual artist, co-author of The Smartist Guide, host of the Art & Cocktails Podcast, and the CEO and founder of the international independent print publication, Create! Magazine. She has a passion for painting and providing opportunities to artists of all career levels. Since starting the magazine, she has had the pleasure of partnering with numerous galleries and art fairs, interviewing leading contemporary artists, and working with notable curators. Her work has been featured by multiple media outlets and publications, including The Philadelphia Inquirer, The Jealous Curator, Iceview and Professional Artist Magazine. Ekaterina's paintings have been exhibited internationally, including Art Miami Fairs, Affordable Art Fair New York and London, Delaware Contemporary, A.I.R. Gallery, and more.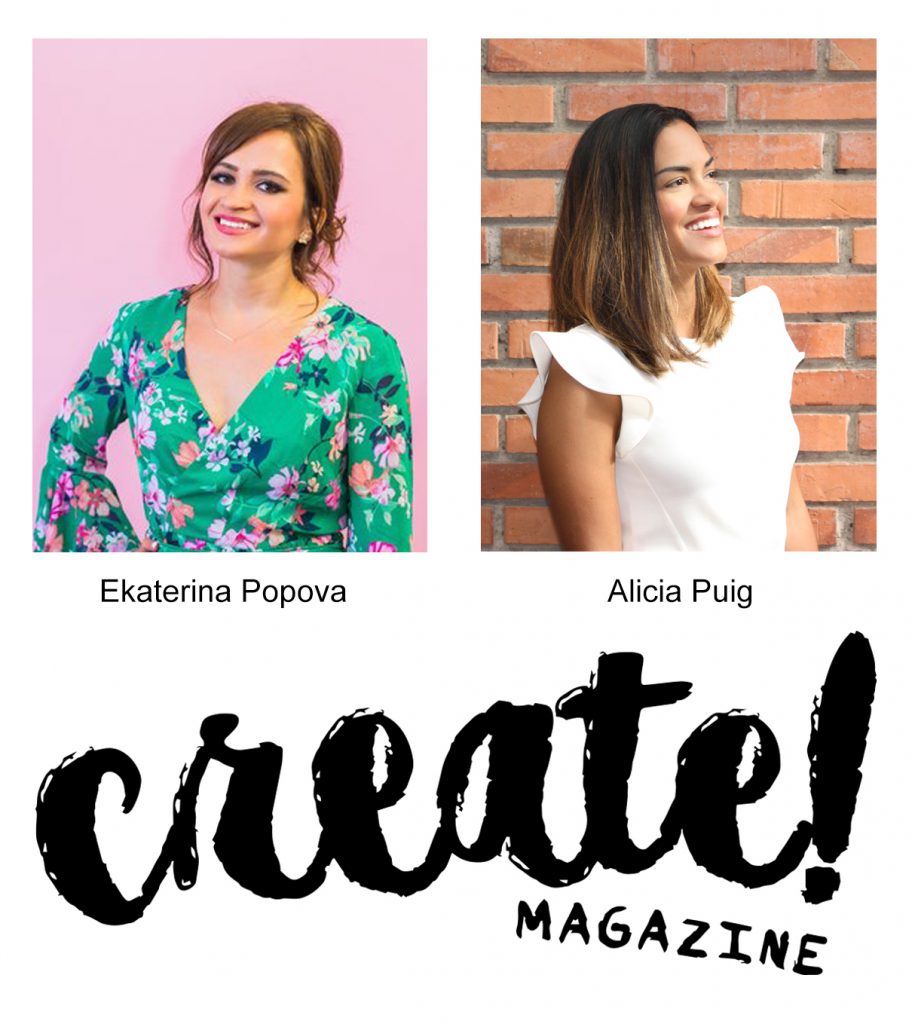 Alicia Puig is the CEO & Co-Founder of the online gallery PxP Contemporary, Director of Business Operations for Create! Magazine, and Co-Author of the book The Smartist Guide. She has worked for notable galleries, museums, art fairs, and an auction house throughout her career both in the US and abroad. Her writing has been published by Motivos Magazine, Printeresting.org, and Empty Easel, among others, and she was part of the curatorial team for "Charles Searles: In Motion" held at the Tyler School of Art at Temple University. She enjoys connecting with artists to learn about their work and help them find opportunities to exhibit, be published, and make sales.
Application Process:
To pay the application fee, click here. (You will be taken to our Alumni website that facilitates payments to securely pay your application fee.) 
Send artwork images to: Gallery@Hastings.edu. Please use your last name as the subject line.
Image titles should be formatted as such: LastName_FirstName_Title.jpg and should be at least 100 dpi and 1000 pixels in the shortest direction. Detail images are welcome.
Artists will receive acceptance notification by Tuesday, January 7, 2020, and will receive a JDAC Gallery Agreement with further instructions.
Artwork must be delivered to the gallery by 5:00 pm on January 17, 2020. The artist is responsible for all shipping costs.
The Jackson Dinsdale Art Center will insure the material cost of each work exhibited.
For any work the artist puts up for sale the JDAC Galleries collect a 25% commission.
If you have any questions please reach out to us at gallery@hastings.edu